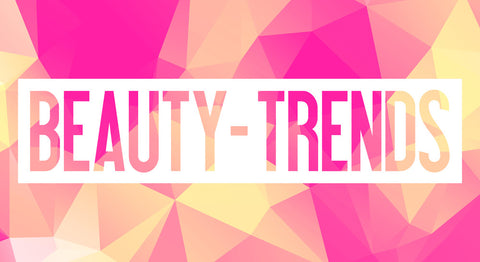 As per usual, we are bringing you the most up to date and exciting happenings in beauty! In this week's edition of 'Trending Now' we are bringing you not only one trend to try, but TEN!
Each of these trends have been seen on runways and in beauty forecasts across the globe, so keep these looks in your beauty arsenal - they are expected to stay trending through 2017!
TREND #1: Avant Garde eyeliner: Extreme angles, off the cuff shapes and boldly drawn lines are all the rave.
TREND #2: A touch of glitter and glitz: Think hot glue gun and 7th grade! Incorporating everything from literal sequins to glitter liners and shadows is a trend that is not going away any time soon.
TREND #3: Fluorescent Hues: Electric Avenue is the place to be in beauty! From fuchsia to neon yellow, there isn't a neon color that isn't in with this trend.
TREND #4: Our forever friend, the smokey eye: This trend never really dies, but it is bigger and better than ever for the coming seasons and all the rules are up in flames! Play with the shapes, colors and weight of the look - they are all on trend!
TREND #5: Goth lips are back to get ya! Black, dark brown, deep purple and magenta are all on trend and will be a Fall/Winter favorite for all skin types and tones. Bold is so beautiful!
TREND #6: Twiggy Lashes are taking over! That iconic, super bold, and spaced out lash look is back yet again and this time… we are on board. There is something about the dramatic, babydoll look that is just so glam.
TREND #7: Silver slays! When added as a liner, shadow or even just to corner of the eye, this metallic hue is HOT! We can't decide...moon walker or makeup maven?
TREND #8: Buhbye Brows! They are still big, they are still bold. . . they are just hard to find! The bleached brow is on just about every runway that matters and we are still a bit on the fence...you?
TREND #9: Say yes to lacquer dipped lips. While matte has had its moment in spotlight, high-gloss kissers are making a plump and juicy come back!
TREND #10: Blue eyeshadow is cool again, really! Electric blues, neon blues, pastel blues - it does not matter! Let your inner '80s baby rave with this rerun return.
Feeling excited or overwhelmed? Any trends that you wish would come back? Maybe one you wish would finally die?! Let us know in the comments below, and if you try these or any of your favorite beauty trends, be sure to tag @aestheticacosmetics.