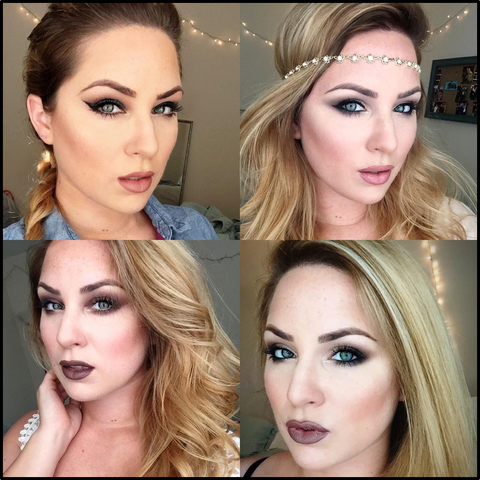 How long have you been in the beauty business? I started experimenting with makeup about seven years ago, but it wasn't until 2013, after graduating Cosmix School of Makeup Artistry that I considered myself a professional.
Where are you from, and where do you currently reside? My whole family is from New England, which is where I was born, but I was raised in New Jersey for most of my life.  I moved to Fort Lauderdale in the summer of 2013 and I've been here ever since! 
When did you first fall in love with makeup? I first fell in love with makeup after watching a season of America's Next top model.  I was so intrigued by the transformations that the models went through and how amazing of a job it seemed being a makeup artist.  I was always into art, and I specifically recall the day I decided to become a makeup artist, which ironically was before I had even picked up a makeup brush in my life.
What is a day in your life like? My days vary from day to day and week to week. Sometimes I have an early morning wake up call where I'm doing makeup before the sun is up.  Other times I get to sleep in and certain days I bartend at night. Being a freelance artist though, my jobs are all over the place, which means my schedule is all over the place!
What is your daily beauty regime? My daily routine is toner, moisturizer, foundation, concealer, Aesthetica Cosmetics contour, filled in eyebrows, mascara, blush, and a nude shimmer eye shadow.  Unless I'm feeling like being glamorous, then of course I'll add more for fun!
What are your essential beauty products? Mascara, eyebrow filler and concealer are my bare minimums!!!! Framing your face with filled in eyebrows, enhancing eyes with mascara and concealing redness are such simple things but they can make a huge difference.  
 What inspires you to do what you do? There is so much inspiration out there! A simple eye shadow color can inspire me, or another artist I see on social media.  One of my biggest inspirations is Roshar (@rosharoffical).  His work is so stunningly abstract and creative, and I hope to have a portfolio as fabulous as his some day.
If you could advise our readers of any one thing, what would it be? BLEND!!! One of the biggest mistakes I see people make is not blending enough.  Invest in good blending brushes; it'll turn your makeup from armature to pro really fast. I also see a lot of people not blending down their neck; no one wants a different colored face than their neck! Blending will help soften your whole look and help avoid harsh lines.
 How did you hear about Æsthetica Cosmetics? I heard about Æsthetica Cosmetics through my school.  I was called for a job to do makeup on models using the Æsthetica contour kit for their website!  Since then, I've worked with the company to help choose colors and give an artist's opinion on some of the fun and exciting upcoming products.
 How often do you contour? Every. Single. Day! I love contouring, it's a weakness of mine.  I use Æsthetica contour kit in my daily routine and on all of my clients and models!
 What is your advice to those that are new to contouring? Practice makes perfect.  Start off with a little product on your brush first, you can always add more if you need to. 
What has been the most memorable moment of your career, thus far? So many memories already! One exciting thing is that I had the opportunity to work on a model for a Playboy shoot, which will come out at the beginning of 2016.  It was so cool to know my work will be seen in such a big branded company and I'll get a lot of exposure from it from social media!
What are you looking forward to most for the coming year? Brides, Brides and more brides! I have a lot of weddings at the beginning of next year and I'm just honored to be chosen to be a part of their big days.  I'm also just excited to see what's to come.  Every year has brought on new challenges, new exciting jobs and opportunities and I can't wait to see where it will take my career.
Where can you be found if you're not working? If I'm not working I'm usually out with my friends having some good laughs, or I'm at home watching Netflix. Netflix is my weakness.
Do you have any pets? I'm obsessed with animals! I have a cockatiel who is very old and very grumpy.  I have a Shitz-zu  Yorkie mix dog named Petey, and I also have two bunnies, Toby and Ziggy. My pets are my fur-babies and I love them dearly!
If you could work on any celebrity face, whose would it be and why? I would cry if I got to work on Lady Gaga's face!!! First off, she loves to be artsy and I think I could create some very cool looks on her face.  Also she has such gorgeous big eyes and this sounds weird but her eyelids are so big, there's so much room to play with!
Who's on your playlist when you're working? My playlist generally consists of John Mayer, Dave Matthews Band, Rebelution and of course, who doesn't love Adele?
What was the best concert or live performance you've ever attended and why? My favorite concerts are always Dave Matthews Band concerts.  The energy of the crowd is palpable and everyone is just there to have a good time and enjoy great music.  Dave Matthews Band never ceases to have an amazing show!
Huge thanks to Kelsey for spilling it to us and if you have a question you'd like us to ask future experts or if you'd like to suggest an expert for inclusion please let us know! 
Connect with Kelsey on Instagram @ktrues_mua.