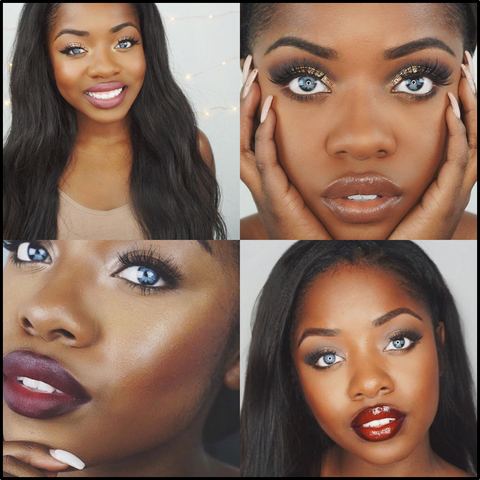 How long have you been in the beauty business? 5+ years professionally, but I've been into all things beauty since my mom let me wear makeup!
Where are you from, and where do you currently reside? I currently live in Denver, and I was born and raised here in Colorado.
When did you first fall in love with makeup? In middle school, so probably 11 or 12 years old.
What is a day in your life like? It's pretty normal, I think people expect it to be more glamourous, but my day to day life is very normal ha! 
What is your daily beauty regime? I don't wear a ton of makeup on a daily basis. I mainly focus on my skin with a tinted moisturizer and some mascara. People in Colorado are very laid back, so there isn't a need to get fully glam everyday.
What are your essential beauty products? Tinted Moisturizer, Mascara, Blush, and a good lip gloss. It's important that the gloss is moisturizing and NOT sticky.
What inspires you to do what you do? I've always loved helping people, and making people feel beautiful. I get re-inspired everyday just reading the feedback I get about how much people enjoy watching my videos.
If you could advise our readers of any one thing, what would it be? Be nice!!! I think it's an attribute that a lot of people lose in the beauty industry. We get so focused on the way we look we forget to also be beautiful in our character as well. It is important to me to always treat people well.
How did you hear about Æsthetica Cosmetics? I started working with Æsthetica through content blvd!
How often do you contour? Whenever I do my full foundation routine.
What is your advice to those that are new to contouring? Research the correct ways to contour for your face shape and practice!
What has been the most memorable moment of your career, thus far? Meeting the people who watch and love my content. Definitely!
What are you looking forward to most for the coming year? New and exciting opportunities to work with makeup brands, and growing my Youtube channel!
Who's on your playlist when you're working? EVERYTHING! My friends always make fun of me about how random my playlists are. You can find anyone from Miranda Lambert to Gucci Mane on my Spotify haha!
Who is your fashion influence or icon? I love Karrueche's style. She has a really nice fashion sense. I also think she and I have similar body types, so she inspires to dress better!
Do you have a favorite beauty and/or spa treatment? My favorite beauty treatment is the Tatcha rice enzyme powder exfoliate. It makes your skin really soft and bouncy.
What was the best concert or live performance you've ever attended and why? The best concert I've ever attended was a J.Cole concert. It was so much fun. A very close second was the Beyonce concert I went to in Vegas!
Do you have any pets? Yes!!! I have two dogs, Nala and Coco, and they are the best things that ever happened to me.
Huge thanks to Cydnee for spilling it to us and if you have a question you'd like us to ask future experts or if you'd like to suggest an expert for inclusion please let us know!
Connect with Cydnee on Instagram @CYDBEE or visit her website: www.SignatureCydnee.com.