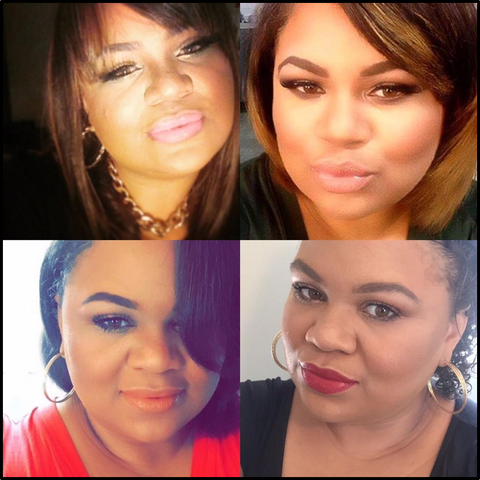 This week we are sitting down with NeCee Wilson, celebrity makeup artist and all around wonderful woman!
Here's what we learned about this FAB female - enjoy!!
How long have you been in the beauty business? I've been in the industry for over 11 years now, 7 years full time.
Where are you from, and where do you currently reside? I am from Ontario, California, born and raised and I still live here!
When did you first fall in love with makeup? When I was 5 years old!
What is a day in your life like? I start my day by taking my kids to school and typically spend the majority of the day working from home, on email replying to clients.
What is your daily beauty regime? LOL! I don't really have one! I know that's bad but I wash my face and use coco butter - that's it!
What are your essential beauty products? Vaseline - I can do without everything else, but I need Vaseline! 
What inspires you to do what you do? Everyday life inspires me, from the things I see beauty in to the music I listen to -music really inspires me!
If you could advise our readers of any one thing, what would it be? I would have to advise them to be consistent and be true to your artistry. 
How did you hear about Æsthetica Cosmetics? From Poloma Romo, my friend and the AEsthetica brand ambassador.
How often do you contour?  I contour all of my clients and myself...when I actually get ready!
What is your advice to those that are new to contouring? Blending and finding the right contour shade for your skin tone are the keys to the perfect contour.
What has been the most memorable moment of your career, thus far? Working on Hunger Games!
What are you looking forward to most for the coming year?  The year just started and I am excited to see where my skills take me - there are so many possibilities!
Where can you be found if you're not working? At the movies
If you could work on any celebrity face, whose would it be and why? Jennifer Lawrence. I love her personality and zeal.
What fashion designer or fashion house best represents your personal style? Classic Channel
Who's on your playlist when you're working? Bryson Tiller, Beyonce, Rihanna, Chris Brown, and a mix of many other like  artists. 
Do you have a favorite beauty and/or spa treatment? I love getting manicures and pedicures!
Huge thanks to NeCee for spilling it to us and if you have a question you'd like us to ask future experts, or if you'd like to suggest an expert for inclusion please let us know!
Connect with NeCee on on Instagram @NeCeeWilsonMUA!